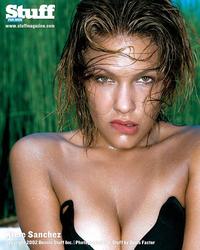 Dany Verissimo (born June 27, 1982 in France) is an actress and model.
The child of a Malagasy mother and a French father, a financial director
at Air France, Verissimo spent her childhood in France, the United
States, and Nigeria. She began performing in pornography at 18 and a
half years old, performing in films by John B. Root, the adult film
director who she worked with exclusively through her entire 16-month
adult film career. During this time, she called herself "Ally Mac
Tyana", which was a play on the name Ally McBeal. She appeared in such
adult videos as Ally, French Beauty and Xperiment, and on Root's website
Explicite.com.
In May 2006, in the
ELLE magazine for the Special Cannes Edition she was recognized as one of the new upcoming actresses.
(avi, 28.6mb, 04:05min)
Download File - 28.6 Mb